English-Speaking Lawyers in Paris
Which Lawyers in Paris? Customer reviews to help you select from the best, most experienced Lawyers in Paris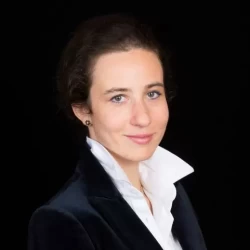 Cases completed 29
Caroline began her career in well known French & English law firms, such as HMN & Partners, Elborne Mitchell, 5 Essex Court Chambers and Atkin Chamber... [read more]
Caroline began her career in well known French & English law firms, such as HMN & Partners, Elborne Mitchell, 5 Essex Court Chambers and Atkin Chambers, where she practised in insurance, construction and litigation fields, specifically insurance and reinsurance law relating to industrial risks, civil liability (contracts, tort, professional matters or defective products) and transport law. She took the oath in 2009 and works in both French and English in civil and commercial matters relating to construction issues, general insurance, industrial risk issues, product liability cases, property and equine law.
---
Customer Reviews
Kevin Bryant
Mar, 27 2022
Caroline was responsive, quick getting back and professional.
Peter Blow, Paris
Jan, 18 2022
Caroline assisted and advised me in relation to a possible medical negligence claim. Although I did not proceed with the claim, my case was thoroughly examined and I was advised throughout in a professional and sympathetic manner.

The advice was that the claim was unlikely to succeed and that I should not commit any further funds, which might well prove to be wasted.

The fee charged was very reasonable under the circumstances. I would thoroughly recommend this service and Caroline in particular. [View all G o o g l e Reviews]
David Morris, Bordeaux
Oct, 06 2020
Caroline was very helpful, knowledgeable and did her utmost to be available when possible. Had Caroline been located nearer to us, a face to face meeting would probably have been of benefit as it is not always easy to communicate clearly by email.
Martyn Strachan, Scotland
Sep, 13 2020
To be fair to Caroline, what I was asking her would have been almost impossible to bring to a successful conclusion and she did as much as she could in the circumstances. She was helpful, responded promptly to communications and researched the matter thoroughly.
Michele Willmott, Paris
Aug, 08 2020
Caroline was helpful & precise in her recommendations.
Peter Jeun Ho Tsang, Paris
May, 20 2020
Caroline really couldn't have done more. I was very satisfied with the service and I would definitely recommend to friends.
Rameez Sayed, Paris
Apr, 24 2020
Caroline has been very responsive and started to advise me as soon as I had made my initial contact. She understands you well, given that she is French and well versed with English.

I made some informed decisions, with her much sorted advice. Her fees are reasonable and she explains you very well before you engage her.

Caroline has been very professional in all her aspects. She is very smart and her introspection is the only way for further improvement.
Georgina Noble-Owen
Sep, 05 2023
Caroline was brilliant, nothing was too much trouble and she helped me resolve an issue that others advised me was not possible. I am truly grateful for all of her hard work and help.
Established more than
10 years ago
Present in 20
European Countries
Over 30,000 client enquiries
successfully managed
Why choose Advocate Abroad?
Call us Now