English-Speaking Lawyers in Alicante
Which Lawyers in Alicante? Customer reviews to help you select from the best, most experienced Lawyers in Alicante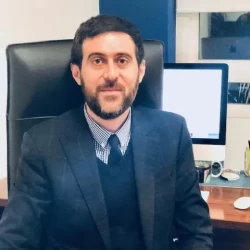 Cases completed 215
Jose Antonio is a highly-experienced lawyer in the Alicante area of Spain. With offices in the centre of Alicante Capital, Jose-Antonio has offered ex... [read more]
Jose Antonio is a highly-experienced lawyer in the Alicante area of Spain. With offices in the centre of Alicante Capital, Jose-Antonio has offered expert legal advice for more than 10 years to English-speakers involved in Property transactions and contractual disputes as well as family law, inheritance and business formation.
---
Customer Reviews
Robert Theobald
Oct, 12 2022
Jose helped us through every part of the process with speed and efficiency. Because he spoke perfect English he explained everything so that we understood what we were doing. He cleared the way and prepared every part of the process, so there were no hold-ups.

His friendly attitude made us very comfortable and his professional approach made both the purchase and sale of the property smooth and easy. He gave very good value for money and nothing was too much trouble.
Geraldine Walduck
Jul, 11 2022
I cannot recommend too highly, my lawyer Jose. He is the ultimate professional on every level. An excellent communicator. A lovely, approachable gentleman who is extremely knowledgeable about law.
William Bain
Mar, 21 2022
I have used Jose on several occasions now and I'd happily use him again in the future.
Trevor Bridges, Alicante
Nov, 08 2021
We were provided with excellent professional service at all times. We are delighted with the service provided by Jose A.  Many thanks. [View all G o o g l e Reviews]
Janekate
Sep, 14 2021
Lawyer Jose Antonio worked on my case. He is very calm, professional and easy to approach, cares about his client. He worked on my case divorcing a Spanish national, which I thought would take forever because I had tried before and failed with a different lawyer.

He was straight forward, told me what I had to do and I was divorced in a short time. I will forever be grateful because he saved my life. I'm so glad I reached out to Advocate and they recommended the right lawyer. I recommend him 100%. [View all G o o g l e Reviews]
William Bain
Aug, 24 2021
Jose is always very helpful and nothing is a problem. I have used him many times already and will continue to do so.
Stuart Munro
Jul, 05 2021
Jose was always good natured and polite and fully helpful in every respect. I would have no hesitancy in recommending him or to use him again.
Emily Mason, Alicante City
May, 19 2021
José was very easy to contact, by email and phone; he kept me updated whenever anything changed or progress was made. He reassured me many times and was very understanding, which really helped as I was obviously very worried about the situation.

I found Jose to be very approachable and kind, knowledgeable as well and explained everything whenever I had questions (even if they were probably very silly!).  Jose also I think was really good value for the level of service he provided.

I'd have no hesitation in recommending him, or using him again, although I sincerely hope I never need to! Definitely great at his job!
Susanne Taheri, Alicante
Mar, 25 2021
Kind and fast replies, good advice and it feels that if I ever need any legal advice in the future I for sure will contact José again.

I am pleased with all contact that I have had .
Annabella Foulkes, Alicante City
Mar, 16 2021
Was quick to respond and provided very clear guidance.
Keith Wortley, Denia
Feb, 18 2021
Jose has provided me with outstanding help and advice over the last ten years.

I would not hesitate to recommend his services to anyone seeking legal advice in Spain. I have come to regard him as a friend over the period of our acquaintance. His fees are extremely reasonable, and has always replied to my queries within twenty four hours.

I cannot speak more highly of his professionalism and only wish I had been aware of his existence twenty years ago, when I first bought property in Spain.
Robert Anslow, Alicante
Sep, 21 2020
David Smith, Alicante
Sep, 12 2020
Jose was always very responsive, understood the problem and clearly explained the costs and benefits of possible solutions and took prompt action to resolve the issue.

1st Class and very professional. A great ambassador for your network.
Wayne Leatherbarrow, Costa Blanca
Sep, 01 2020
Confident, articulate, concise & polite. I've used eleven 'abogados' to date, all pale behind Jose. One case I had lasted 12 years ! So I do believe that I know a little concerning the lugubrious trade today. The Best Rise to the Surface.
I'm happy, Thank you.
Geraldine Walduck, Alicante
Aug, 14 2020
Jose Antonio is exceptionally professional and methodical in all that he does. He is knowledgeable in all areas of Spanish Law and is always a pleasure to deal with. I have no hesitation in recommending him.

The service provided by Jose is exceptional at all levels.
Established more than
10 years ago
Present in 20
European Countries
Over 30,000 client enquiries
successfully managed
Why choose Advocate Abroad?
Call us Now