English-Speaking Lawyers in Maspalomas
Which Lawyers in Maspalomas? Customer reviews to help you select from the best, most experienced Lawyers in Maspalomas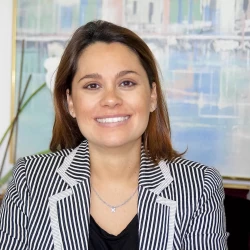 Cases completed 73
Esther has practised law in the Canary Islands since 2002 and specialises in civil, commercial, criminal and real estate law. Together with an impress... [read more]
Esther has practised law in the Canary Islands since 2002 and specialises in civil, commercial, criminal and real estate law. Together with an impressive academic records, which includes a Masters in Urban Planning, she has a very good command of English and German as well as her native Spanish.
---
Customer Reviews
Marc Todd
Jun, 27 2022
I recently instructed Esther of Advocates Abroad for conveyance assistance and her advice and assistance was professional and prompt. I would seek her advice and services again. [View all G o o g l e Reviews]
Anne Vanhalakka, Belgium
Oct, 17 2020
I am very pleased about Esther's kind and professional help to arrange a probate and property ownership case.
Stephen Millman, Maspalomas
Sep, 09 2020
Esther is bilingual and very helpful. Very satisfied with the service.
Peter Tynemouth, Maspalomas
Jun, 30 2020
Gave informed advice.. Described different options and gave indications of costs for these options. Very professional.
Christopher Allen, Las Palmas
Nov, 28 2019
Very informative and clear.
Breda McMahon, Gran Canaria
Jun, 25 2019
Coenraets, Playa Inglés
Mar, 21 2019
I was looking for advice about the legal method of splitting the common costs among the owners of a compound. Her advice was very helpful during the owners meeting that I had this afternoon.
Pernilla, London
Apr, 13 2018
We had excellent service from Esther at Advocate Abroad when buying a property in Las Palmas, Gran Canaria.

Esther speaks both Spanish and English, and is very friendly, professional and genuine. She took care of the whole purchasing process and explained all the steps for us, including giving advice on Spanish bank account, NIE numbers etc.

We are very pleased with all the help we have received and can highly recommend Esther. Thank you so much!
Julia Alcock, Puerto Rico, Gran Canaria
Feb, 22 2018
Esther was very friendly and approachable. She was professional and answered any questions I asked. We would definitely use her again in the future.
Jackie Stevenson, Gran Canaria
Jul, 19 2017
Esther is informative and extremely helpful and above all very professional.

I would definitely use the same lawyer again in the future.
Liam Kirwan
Jan, 19 2023
Established more than
10 years ago
Present in 20
European Countries
Over 30,000 client enquiries
successfully managed
Why choose Advocate Abroad?
Call us Now