English-Speaking Lawyers in Oviedo
Which Lawyers in Oviedo? Customer reviews to help you select from the best, most experienced Lawyers in Oviedo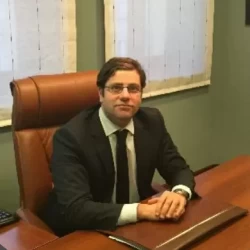 Cases completed 40
Miguel has accumulated a great deal of experience practising as a lawyer for more than 16 years. He is an expert in all aspects of commercial and empl... [read more]
Miguel has accumulated a great deal of experience practising as a lawyer for more than 16 years. He is an expert in all aspects of commercial and employment law, working extensively with international businesses that have Spanish employees. He appears on the register of civil and employment law mediators and is authorised by the Spanish government to mediate in civil and commercial disputes.
---
Customer Reviews
John Behr, Oviedo
Feb, 02 2022
Miguel was fantastic in all respects!
Jo Helmuth
Dec, 12 2021
Miguel helped me buying a property in Pantin, A Coruna.

Miguel is very professional, pro-active, and diligent. He structured the process from beginning to end. He was very helpful in also giving guidance in situations where I had to make decision.

On top of doing important legal research, preparing paperwork and organizing local contractors, he also conducted all negotiations with the seller and bank.

Since I had no prior experience in any of the business we did together, do not speak Spanish and have no knowledge of local customs, all this was absolutely crucial to the success.

Finally, Miguel is a very friendly person and I genuinely enjoyed the interaction.
Anns Pavlova, Oviedo
Nov, 18 2021
Miguel is very friendly and always ready to help. Always answers the phone or a message. Very polite and rather reliable!

Angie Nicos, Galicia
May, 05 2021
Miguel could not have been any better, he was instantly responsive with any form of contact whether it be email or WhatsApp he was always there to help and advise.

He is a very calm understanding person with excellent communication skills and very supportive and kind. I highly recommend him, and will always use his services even though I'm now at the other end of Spain.

He is a great person and a highly professional lawyer, he got what I wanted which was not an easy achievement, and considering the huge amount of time he dedicated to my case he is excellent value for money. I am very grateful and thankful to him and all his work.
Richard Mintern, Oviedo
May, 03 2021
We were very happy with the service from Miguel. We found him always reliable and professional, always quick to respond, understood what we wanted.

We had some difficulties during the process due to Brexit but he worked his way through them and we couldn't be happier with the outcome. We intend to ask him to represent us when we buy a house in Spain
Ben Cuppello, Oviedo
May, 27 2020
Miguel provided a faultless service throughout the purchase of our property in Oviedo.

Always responsive, providing excellent advice and guidance and prepared to go above and beyond to help us on numerous occasions. I could not recommend him highly enough.
Brian Berman, Oviedo
Mar, 11 2020
We were very have happy with the level of service provided by Miguel, he went above and beyond to make sure that everything was understood by us and clear.

Using him made us realise that buying aboard was not straight forward and with his help opened doors which we would have struggled with. He was always available to us day and night ( even at weekends) and would respond to any question with either the answer or information of how to get it. He kept us informed at each and ever stage of our purchase. He was a real gentleman and we were very proud and honoured to have met such a lovely man.

He is a great example of how a person in his position should operate with his clients and we can not thank him enough.
Pavel Zaytsev, Oviedo
Mar, 11 2020
Miguel helped our company a lot.

He deeply investigated the contract then provided us a reasonable set of recommendations how to proceed with the counterparty.

The case is going to the end in a couple of weeks, finally he could able to defend our position as much as possible. We will definitely use Miguel for creating future contracts.
Chris Ealand, Oviedo
Nov, 27 2019
I am so satisfied and impressed by the the blend of professionalism and humanity Miguel has shown me. He has earned my complete trust in all matters.

He keeps in contact and replies quickly and even on weekends. Plus has a wonderful feel for his clients as to their needs. I cannot thank him enough for all his help.
Leigh Hossbach, Oviedo
Aug, 17 2019
I would wholly recommend Miguel to anybody contemplating a house purchase in the Asturias area of Spain. His pricing was competitive and adapted to my particular requirements.

He consulted with other professionals (including the council) to help determine the expansion and future building possibilities of the land. He also undertook the necessary checks to establish there was no outstanding debt tied to the property.

Compared to UK solicitors Miguel was very much more approachable and would always respond to my queries and deliver frequent progress reports at any time of the day including weekends.

Given the complexity of the Spanish notary system it is essential you have a local solicitor who knows all the variations associated with the Asturian conveyancing system to guide you towards a successful outcome.

Even though I had a reasonable understanding of Spanish Miguel's excellent written and spoken English proved invaluable at all stages of the conveyancing process in particular the final signing of the deeds. Well done Miguel and many thanks for all your help!
Daphne Zargar, Detroit, USA
Jul, 20 2019
Miguel was awesome! Super responsive, extended my knowledge and put me totally at ease through the process of buying a house in Galicia.

I felt my interests were put first in the process and protected and would definitely recommend Miguel with full confidence.
Daniel Spitzhorn, Spain
Aug, 14 2018
Miguel in Oviedo helped us during the process of buying a flat in Asturias. He was just brilliant!
Nick Nicolaou, Oviedo
Feb, 20 2018
Very Satisfied with Miguel's work. He was very helpful and we would definitely use his services again in the future.
Hans Maerker
Mar, 23 2023
We bumped into several bureaucratic hurdles here in Oviedo before we contacted your company. It was a mess. Yet, our lawyer Miguel went the extra mile and bent over backwards to get everything solved for us. We couldn't have had any better lawyer than him. It was great to work with him.
Established more than
10 years ago
Present in 20
European Countries
Over 30,000 client enquiries
successfully managed
Why choose Advocate Abroad?
Call us Now