English-Speaking Lawyers in Gandia
Which Lawyers in Gandia? Customer reviews to help you select from the best, most experienced Lawyers in Gandia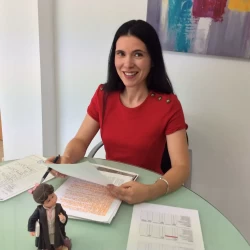 Cases completed 52
Francisca is a highly experienced lawyer with 15 years track record assisting English-speaking clients in a number of fields, including property law a... [read more]
Francisca is a highly experienced lawyer with 15 years track record assisting English-speaking clients in a number of fields, including property law and has an impressive academic record including Masters Degrees in Family and Criminal Law. Francisca spent five years living in London and has maintained an extremely high level of English to this day.
---
Customer Reviews
Alexandra Vrabelova
Jul, 27 2022
Excellent work, big effort and responsibility. High professionality and skills (thank you, Francisca), and in every time willingness to answer all my questions. I fully recommend! Now I am a happy owner of property in Spain:) [View all G o o g l e Reviews]
Carole Coke-Glass
Mar, 29 2022
Francisca was totally professional and extremely responsive in her understanding and actions, a very effective communicator, with fluent English, and the ability to explain and gain feedback to ensure that we understood each step of the process, the service provided and expectations from her clients.

Francisca remained empathic and provided clear guidance throughout the process. We were made to feel valued and our opinions and thoughts were listened to with patience and care, particularly, as we had never endeavoured to buy a property aboard before and we do not speak Spanish.

Francisca was able to see our point of view, as we ventured into new territory. Her support ensured that we felt confident and in control throughout the purchasing process. Francisca was always open and approachable, and always responded to queries and returned our calls without delay. We cannot praise her hard work enough and would highly recommend her to anyone seeking to purchase a property aboard.

Although always professional, the relationship made as feel that we were dealing with a good friend and it was more just a transactional relationship, Francisca displayed emotional intelligence throughout the whole process.
David Stack, Valencia
Jan, 11 2021
Francisca has always been very helpful and professional and has gone out of her way to assist me. All very good!
Christopher Horne, Puçol
Oct, 02 2020
I both purchased and sold a property in Spain utilising Francisca's services in both instances. I felt it was essential to use a lawyer as I am from the UK and this was my first experience of buying and selling in Spain and the system, process and tax requirements are very different and I wanted someone experienced and professional to oversee everything and 'hold my hand' through the process.
It seems that most Spaniards do not utilise a lawyer or use an independent property surveyor and the inmobiliaria/estate agent does a huge amount of additional work compared to what they do back home. This combined with the arras (deposit of thousands of Euros paid directly to the seller to 'secure' the property and take it off the market) made me nervous as it was so different to what I was used to in the UK - in some ways it's a lot better system.
Like most reading this review, I did a huge amount of internet research when looking for property to buy in Spain and from experience have found that there are many companies set up by Brits and other non-Spaniards that are looking to take advantage of first time buyers from their native countries by putting up flashy websites and charging exorbitant fees - without exception I found that the Spanish inmobiliaria/estate agent, lawyers, etc. were far more professional, hard working and able to get things done at a fair price. The challenge is, if like me, your Spanish language skills are poor to non-existent - my advice to you is to get used to using both Google Translate and WhatsApp on your mobile phone with a data package that works in Spain as these came to my rescue on multiple occasions and are invaluable.
Francisca's services through both the buying and selling process of my property were exemplary and professional at all times, her fees fair, her communication swift and her level of integrity beyond doubt. Some of Francisca's greatest non-lawyer strengths are her ability to empathise with a non-Spaniard buying property for the fist time in Spain, communicate the system clearly, set the necessary appointments / provide clear directions and generally 'hold your hand' through the process and sooth your nerves when necessary.
I would have no hesitation in recommending Francisca to anyone requiring the legal services (not just buying/selling property) of a lawyer in Spain and will certainly approach her again should I need such services again. It is rare to find a professional of this level of integrity in any industry or country.
We need more clones of Francisca across Spain! :-). From my experience, her services and professionalism cannot be improved upon.
Peter Marsh, Gandia
Aug, 07 2019
In all departments Francisca was outstanding in every case!
Mark Fairley, Gandia
Apr, 30 2019
Francisca was extremely professional, great communication throughout the purchasing process.

Phoned or emailed me to keep me updated and worked to a good timescale for completion. Prepared well for the notary and simplified the answers on any questions or issues that occurred.

I would highly recommend Francisca for anyone from the U.K wishing to purchase property in Spain.

She takes away any stress or fear that can happen from entering the unknown legal practice in Spain. I would definitely use Francisca again for legal service, on any future issue or purchasing of property.

She provided good value for service and would be a future person to go to, for any expat in the Spanish community.
Wayne, Valencia
Mar, 16 2019
Francisca was very informative and helpful. She handled my divorce professionally and made it easy for me throughout the process.

Highly recommend and reasonable fees. Thank you, Francisca!
Wayne Cherry, London, England
Mar, 09 2019
Francisca was very informative and attentive to all of my inquiries and concerns. I would definitely be going back to her if needing her services again and would recommend her brilliant services.
Gary Moore, Gandia
Feb, 28 2019
Francisca is a first-class Professional ' puts u at ease.

100% up to date and reliable.  I would not consider using anyone else.
Val, France
Jan, 08 2019
Francisca was extremely helpful. We especially appreciated the clarity and sensitivity to our situation.
Thom Koller, London
Nov, 05 2018
Francisca provided a perfect service!

She is professional, dedicated and took care to understand the needs of my situation. Her service offers exceptional value for money and gives complete peace of mind.
Rosemarie Byrne and John Cooper, Dublin Ireland
Oct, 09 2018
We found Francisca extremely helpful with a great amount of knowledge about buying a house and re-locating to Spain.
Mr David P Robson, Valancia
Jul, 12 2018
My lawyer Francisca offered value for money and was very helpful. Will use her again.
David Stack, Lliria, Spain
Jun, 21 2018
Francisca was extremely helpful. She made the whole process easy to understand. I would definitely recommend her service to friends.
John Hogan
Mar, 21 2023
My wife and I recently purchased a house in Spain. Initially there were significant issues with the deeds and later problems with the Bank Transfers, however Francisca of AA skilfully and successfully steered us through these problems, reassuring us at each stage, minimising our stress levels and easing our burden. [View all G o o g l e Reviews]
Established more than
10 years ago
Present in 20
European Countries
Over 30,000 client enquiries
successfully managed
Why choose Advocate Abroad?
Call us Now